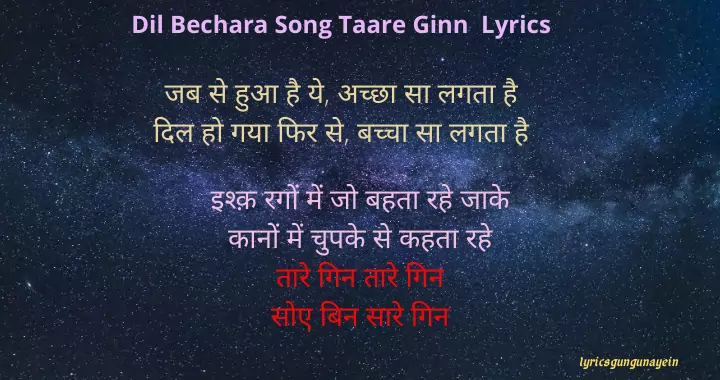 Beatiful romantic song तारे गिन सोए बिन लिरिक्स taare ginn lyrics in hindi from Dil Bechara Movie. Sung by Mohit Chauhan and Shreya Ghoshal. Picturised on Sushant Singh Rajput and Sanjana Sanghi. Music is composed  by A.R. Rahaman and Amitabh Bhattacharya has written the lyrics.
Song Title/गाना : तारे गिन 
Singer/गायक: Hriday Gattani, Jonita Gandhi
Movie/फिल्म : Dil Bechara (2020)
Music Director/संगीतकार: ए र रहमान A.R. Rahman
Lyrics Writer/गीतकार: अमिताभ भट्टाचार्य Amitabh Bhattacharya
Star casts/अभिनीत किरदार: Sushant Singh Rajput, Sanjana Sanghi
Music Label/म्यूजिक लेबल : Sony Music India
Taare Ginn lyrics in hindi
जब से हुआ है ये, अच्छा सा लगता है
दिल हो गया फिर से, बच्चा सा लगता है
इश्क़ रगों में जो बहता रहे जाके
कानों में चुपके से कहता रहे
तारे गिन तारे गिन
सोए बिन सारे गिन
एक हसीं… मज़ा है ये
मज़ा है या… सज़ा है ये
जब से हुआ है ये अच्छा सा लगता है
दिल हो गया फिर से बच्चा सा लगता है
इश्क़ रगों में जो बहता रहे जाके
कानों में चुपके से कहता रहे
तारे गिन तारे गिन
सोए बिन सारे गिन
एक हसीं मज़ा है ये..
मज़ा है या सज़ा है ये..
रोको इसे.. जितना महसूस हो ये उतना
दर्द ज़रा.. सा है, थोड़ा दवा सा है
इसमें है जो.. तैरा वोही तो डूबा है
धोखा ज़रा सा.. है थोड़ा वफ़ा सा है
ये वादा है या, इरादा है
कभी ये ज़्यादा है, कभी ये आधा है
तारे गिन, तारे गिन
सोए बिन, सारे गिन
एक हसीं मज़ा है ये
मज़ा है या सज़ा है ये
Taare Gin Soye Bin Lyrics in English
Jabse hua hai yeh, achcha saa lagta hai
Dil ho gaya phir se, bachcha sa lagta hai
Ishq ragon mein jo behta rahe jaake
Kanon mein chup ke se kehta rahe
Taare ginn taare ginn
Soye bin saare gin
Ek hasin maza hai yeh
Maza hai ya, saza hai yeh
Jabse hua hai yeh, achcha saa lagta hai
Dil ho gaya phir se, bachcha sa lagta hai
Ishq ragon mein jo behta rahe jaake
Kanon mein chup ke se kehta rahe
Taare ginn taare ginn
Soye bin saare gin
Ek hasin maza hai yeh
Maza hai ya, saza hai yeh
Roko ise.. jitna mahsus ho yeh utna
Dard zaraa sa hai.. thoda dawa sa hai
Ismein hai jo.. taira, wahi to duba hai
Dhokha zara sa hai, thoda wafa sa hai
Yeh vaada hai ya irada hai
Kabhi yeh jyada hai, kabhi yeh aadha hai
Taare ginn taare ginn
Soye bin saare gin
Ek hasin maza hai yeh
Maza hai ya saza hai yeh